Published: Tuesday, July 09, 2019 11:05 AM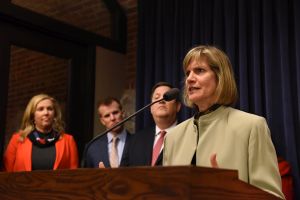 OAKBROOK TERRACE– For more than a generation, young people have been discouraged from seeking blue collar jobs in favor of pursuing college degrees. State Senator Suzy Glowiak (D-Western Springs) passed a measure to help encourage more job seekers to pursue occupations that ensure safety and modernize Illinois' infrastructure.
Glowiak championed the Blue Collar Jobs Act, which offers tax incentives to companies making significant capital improvements in Illinois based on the withholding tax paid to construction workers. The program went into effect on July 1, 2019.
"The Blue Collar Jobs Act will lift up middle class families while expanding Illinois' businesses," Glowiak said. "The key to growing our state's economy is creating new jobs, expanding economic opportunities and promoting a business climate that encourages companies to stay, expand and grow in our communities."
The act creates four new tax credits; High Impact Business construction jobs credit, Enterprise Zone construction jobs credit, New Construction EDGE Credit and the River Edge construction jobs credit. The bipartisan program won the support of labor and business groups
The Blue Collar Jobs Act is similar to the EDGE Tax Credit program, with some of the following features:
An incremental income tax withholding is offered to High Impact Businesses and businesses in Enterprise Zones and Rivers Edge Areas.
The credit is larger if the jobs are provided in an underserved area (defined by the EDGE tax regulations).
The credits to the business (employer) are equal to up to 50% (or in some instances, 75% if the project is in an underserved area) of income tax withheld from construction project contractor and subcontractor employees.
Category: Press Releases